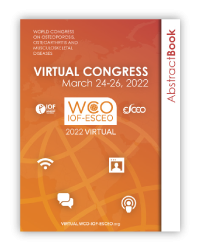 The 2022 AbstractBook is now available !
WCO-IOF-ESCEO Virtual Congress 2022 abstracts are now available on the official website of the Congress!
We are thrilled to announce that the accepted abstracts of the 2022 WCO-IOF-ESCEO Congress can be viewed in our annual AbstractBook !
Don't wait any longer and take this opportunity to have a look at your colleague's work!