Abstract submission platform opens in 2 weeks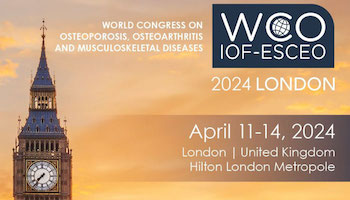 The world's largest Congress in the field of osteoporosis, osteoarthritis and musculoskeletal disorders is the ideal platform to reveal your latest research findings. Start planning your submission now! All accepted abstracts:
 • will be published in a prestigious and internationally renowned journal;
 • can be displayed in the poster area, to allow for interaction with other delegates during the poster viewing session;
 • have the opportunity to be considered for oral presentation in front of an influential audience at the WCO-IOF-ESCEO 2024.  
Grab your chance - submit your abstract before January 29th, 2024!  
Check out all the details related to the abstract submission:  Abstract Guidelines (click here) 
Abstract submission will be open from October 1, 2023 until January 29, 2024.